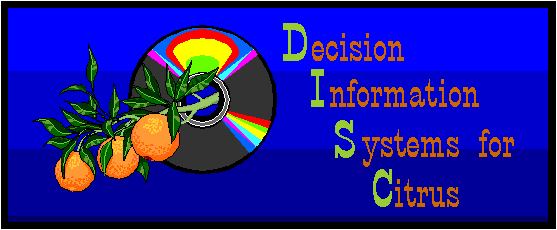 DISC LINK PAGE
Decision Information Systems for Citrus
The following links to publications, personal home pages of those involved with DISC and agencies that are already doing some work in similar areas will help the reader understand better what DISC is all about. Please surf these web pages at your liesure.
---
Publications

Some files at this site are in Adobe Acrobat Reader format. Click here to download Acrobat Reader.
---
Products Available
---
Related Technologies
---
Precison Ag Sites
---
Visit These Web Pages
Agricultural and Biological Engineering Department
Institute of Food and Agricultural Sciences -- IFAS
Grower Participants
Private Industry Partners
---
AgriGator - an excellent Agriculture link page!

Main DISC Web Page | DISC Link Page | The Ultimate Citrus Page | Arapaho Citrus Management
Contact: disc@ultimatecitrus.com
This page was last updated on May 22, 2001
E-mail Webmaster.